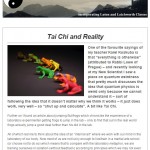 15th December 2014: Tai Chi and Reality
One of the favourite sayings of my teacher Karel Koskuba is that "everything is otherwise" (attributed to Rabbi Loew of Prague) – and recently looking at my New Scientist I saw a piece on quantum weirdness that pretty much discusses the idea that quantum physics is weird only because we cannot understand it – sort of following the idea that it doesn't matter why we think it works – it just does work, very well – so "shut up and calculate". A bit like Tai Chi.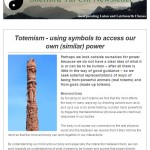 2nd December 2014: Totemism – using symbols to access our own (similar) power
Perhaps we look outside ourselves for power because we do not have a clear idea of what it is or can be to be human – after all there is little in the way of good guidance – so we seek external representations of ways of being from powerful animals (real totems) and from gods (made up totems).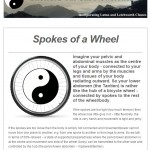 18th November 2014: Tai Chi – Spokes of a Wheel
Imagine your pelvic and abdominal muscles as the centre of your body – connected to your legs and arms by the muscles and tissues of your body radiating outward. So your lower abdomen (the Tantien) is rather like the hub of a bicycle wheel – connected by spokes to the rest of the wheel/body.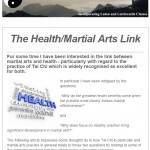 4th November 2014: The Health/Martial Arts Link
For some time I have been interested in the link between martial arts and health – particularly with regard to the practice of Tai Chi which is widely recognised as excellent for both.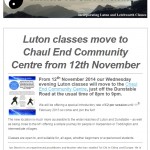 13th October 2014: Luton classes moving to Chaul End Community Centre
From 12th November 2014 our Wednesday evening Luton classes will move to the Chaul End Community Centre, just off the Dunstable Road at the usual time of 8pm to 9pm.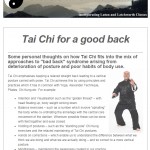 2nd October 2014: Tai Chi for a good back
Tai Chi focuses a great deal on the back and its use – what can we learn for daily life?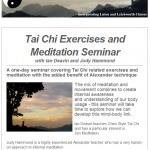 September 2014: Tai Chi Exercises and Meditation Seminar
A one-day seminar covering Tai Chi related exercises and meditation with the added benefit of Alexander technique.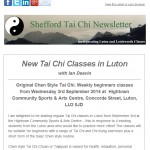 August 2014: New Tai Classes in Luton
Original Chen Style Tai Chi. Weekly beginners classes from Wednesday 3rd September 2014 at Hightown Community Sports & Arts Centre, Concorde Street, Luton, LU2 0JD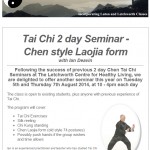 July 2014: Tai Chi 2 day Seminar with Ian Deavin
Following the success of previous 2 day Chen Tai Chi Seminars at The Letchworth Centre for Healthy Living, we are delighted to offer another seminar this year on Tuesday 5th and Thursday 7th August 2014, at 10 – 4pm each day.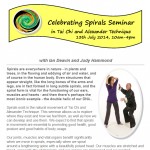 June 2014: Celebrating Spirals Seminar with Tai Chi and Alexander Technique
Spirals exist in the natural movement of Tai Chi and Alexander Technique. This seminar allows us to explore where they exist and how we feel them, as well as how we can develop and use them.